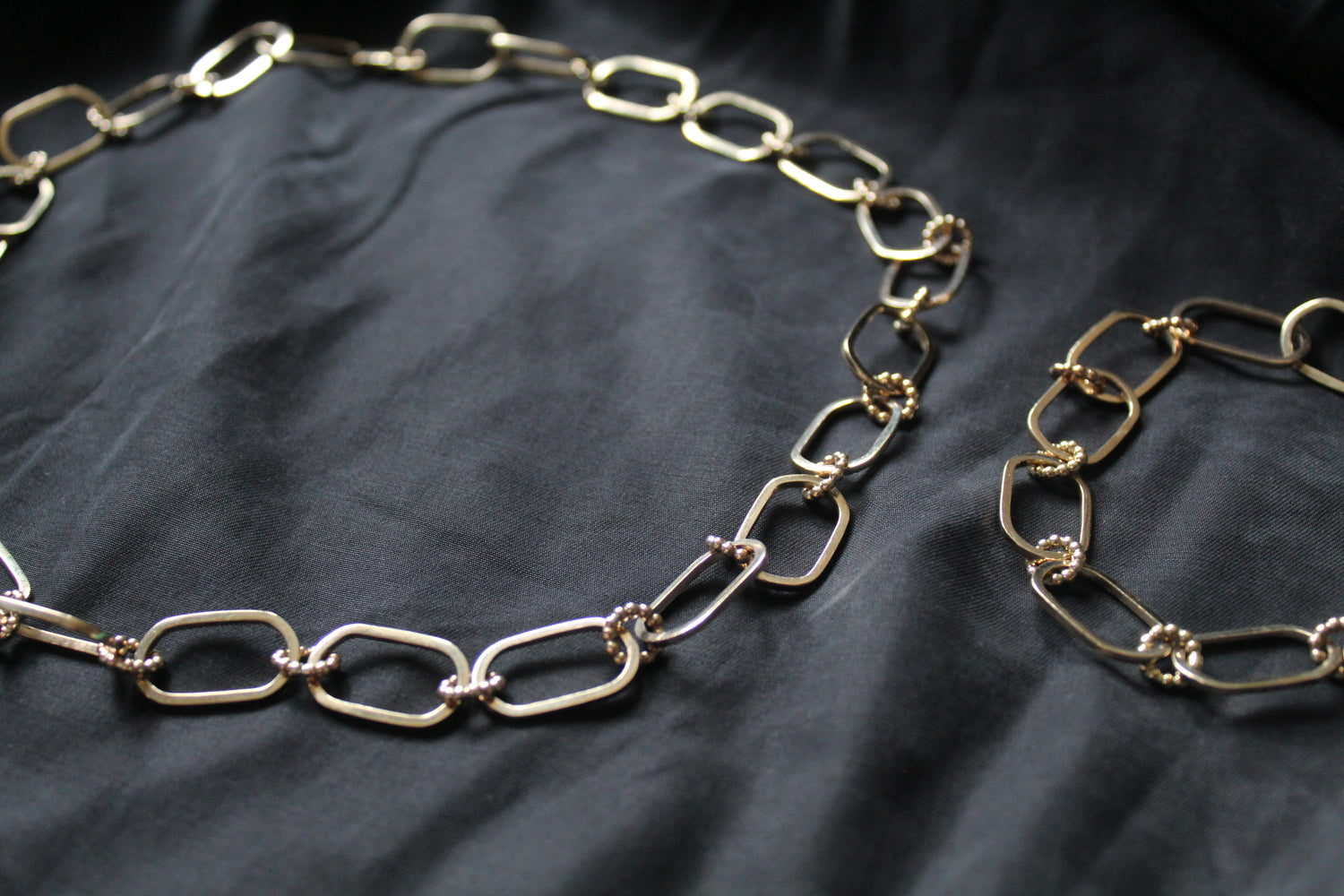 Remodel your jewellery
Remodeling your jewellery is a great way of holding onto family history and sentimental value. Vintage and inherited jewellery can be beautiful, however, may not always suit your personal style. Remodelling gives you an opportunity to be creative and honour loved ones. We remodelled this clients gold into a versatile large link chain with a matching bracelet.
Where to start

It all starts with an idea. Let us know the weight of your jewellery collection. If you have kitchen scales, weigh your jewellery and let us know the total weight along with clear and detailed images of the jewellery you'd like remodelled. Not all jewellery will be fit for the job so we will let you know what is possible with the jewellery you have. Please be sure to know which items you'd like remodeled as once your jewellery is melted down, we cannot replace it.

What do I need?

After an initial discussion about what's achievable with your jewellery, we will need to see your jewellery to sieve through and examine your collection. You can either post your jewellery to us via Special Delivery or arrange to meet with Jade. If we feel some of your jewellery isn't fit to melt down, you will be informed and your jewellery will be returned to you.

What to expect

All remodels are completed in our local workshop. Remodels can take between 4 - 12 weeks depending on the design. Any jewellery that is left over after the remodel will be returned to you. This may be in the form of gold grain or gold cut offs. We will inform you in advance of the gold required for the job. If you do not have enough materials, we can source and provide more to fulfil the design. We do advise you have an idea of your starting weight, you lose grams during the refining stages so please bear this in mind (your final weight of your new jewellery will differ to your starting weight). Have a budget in mind, a common misconception of using your existing jewellery is that it will keep your the costs down. This isn't always the case. Budgets and costs will be discussed right at the beginning on your consultation.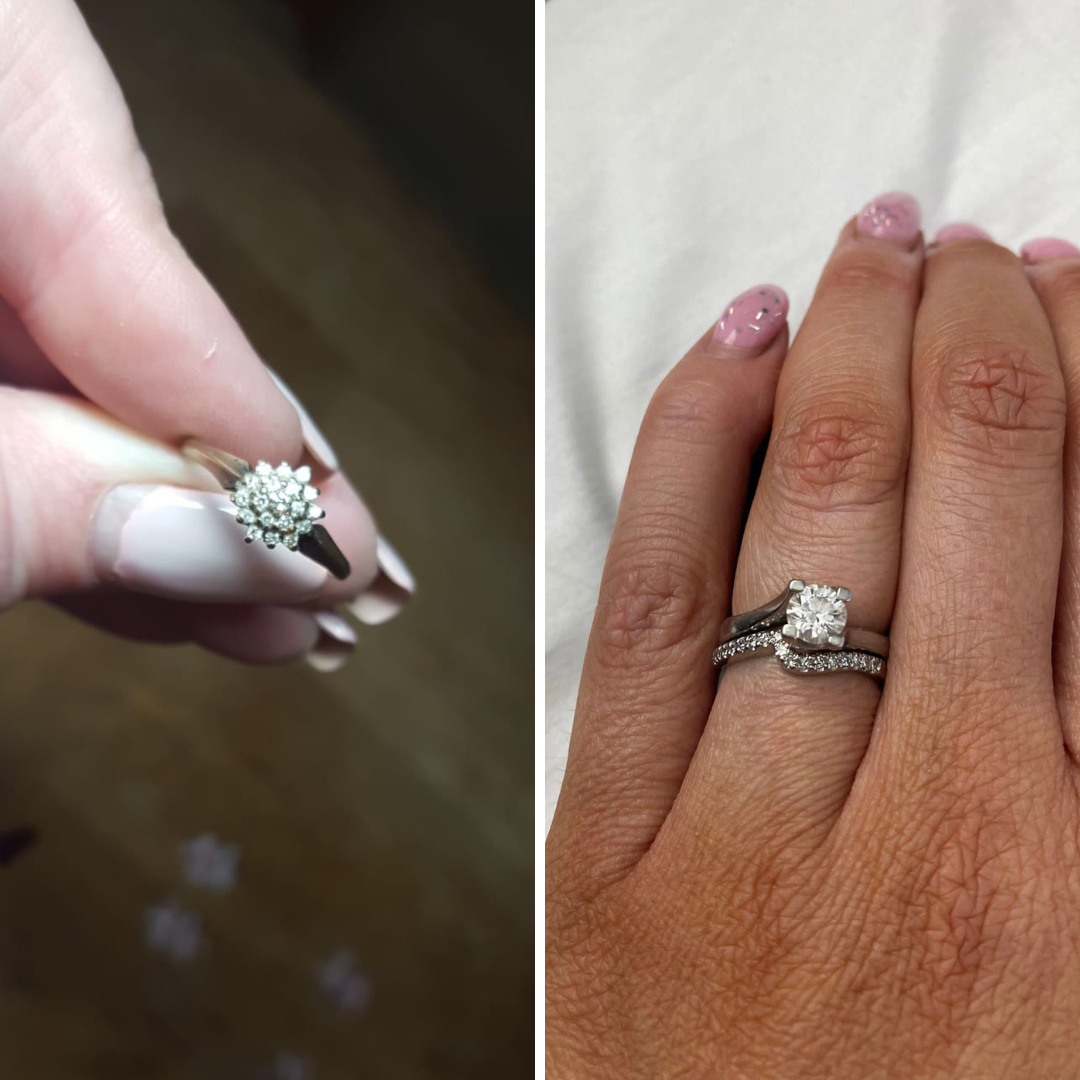 Make use of your diamonds
We will do our best to reuse every element of your existing jewellery. Not all components can be re-used, this is dependant on the condition of your jewellery. This is where our expertise comes in. We can help identify what jewellery can be used and what is achievable with the jewellery you have. Get in touch if this service is something you'd like to learn more about.
Please share as many photos of your jewellery as you can when you get in touch for remodels. Also include your gold weights.
Get in touch
Testimonials

We had an amazing time at Jade's ring workshop, making our wedding rings from jewellery gifted by my late grandma. Jade processed the metal for us and helped us turn it into beautiful wedding rings that look exactly how we imagined. It feels so special to have rings we made ourselves, especially with the connection to my grandma.
Jade used the leftover gold to make beautiful bespoke earrings, and she repaired my grandma's engagement ring for me too.
Jade is a great teacher and a talented jeweller. I'd highly recommend her workshops for anyone who wants to make their own jewellery, and her bespoke services for anyone looking for jewellery design or repair.

Sarah
Jade was absolutely wonderful to work with! My husband and I commissioned a bespoke wedding band made from my husbands late Mum's rings and added some additional white gold to create the two toned band with an engraving. Jade was incredibly knowledgeable and advised us on different fits, metal combinations and a number creative designs based on our concept for the ring. She kept us well informed throughout the whole process and sent progress images along the way. We are so thrilled with the final result and Jade kindly also resized my wedding band also. We will definitely be using Jwllry by Jade again for future creations. Thank you so much Jade!

Bea